If you're big and tall and you are wondering why it is not possible for you to enjoy a relaxing kayak trip, I'm happy to tell you that you're absolutely wrong. kayaking is not limited to any body shape or size and there are several kayaks available in the market to accommodate big and tall persons. You should know have a basic understanding of what a kayak is as we've already covered all of its key components in our earlier sections.
In this list, we have researched some of the best kayaks available in the market. We have also covered the features, advantages and disadvantages of each kayak so it will help you select the best kayak model. In the latter half of the article, we have listed down some tips before buying a kayak for big guys so if you are interested you should read that segment as well.
According to our research, here are the top kayaks currently on the market.
Review of Best Kayak For Big Guys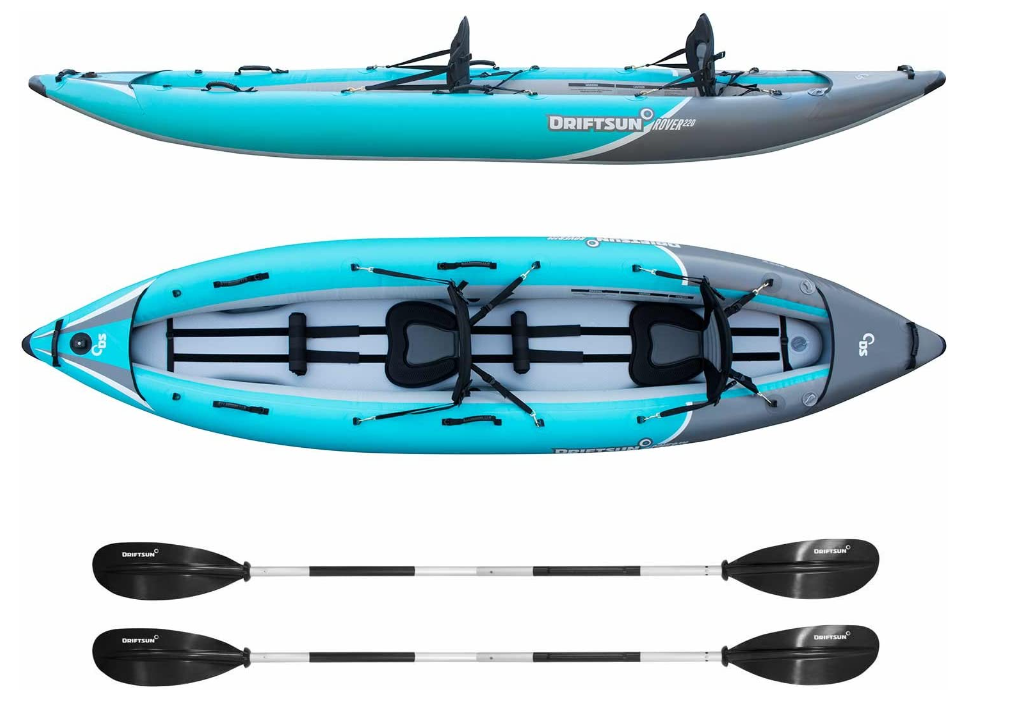 Highlighted Features:
One-person/two-person inflatable kayak
300/600 pounds load capacity
22/28 pounds hull weight
1000D reinforced layered PVC
High-pressure drop stitch
3 PSI side tubes and 6 PSI floor
The tandem kayak from Driftsun, the Rover 220 Inflatable Whitewater Kayak, is prepared for any adventure you have planned. You can carry it anywhere and be set up and on the water in just a few minutes thanks to its 28-pound weight and quick 9-minute inflating time. It can withstand practically any type of water condition, up to Class IV rapids, thanks to reinforced multilayer materials and a highly durable design. Additionally, it provides enough room for 2 adults and a child, a pet, or travelling with fishing and camping gear because of its enormous 600-pound capacity. An inflatable tandem kayak with surprising adaptability is the Driftsun Rover 220. It is convenient to use with the family and works equally well on calm or turbulent waters because of its big 12-foot length and 600-pound weight capacity. With a strong high-pressure floor that provides great stability and can endure dog claws and other abrasions, it is comprised of layered and reinforced PVC.
The Driftsun Rover 220, despite being kid-friendly, is made for adventure thanks to its eight self-bailing ports, high-pressure valves, corrosion-resistant hardware, and a profile that can withstand choppy waters. It has a camera mount and is approved for Class III and Class IV rapids, so you can record all of your exploits without a cumbersome helmet mount. Additionally, there is no need for challenging storage or transportation because the Driftsun Rover 220 can be easily packed away into the accompanying carry bag when you're finished.
| | |
| --- | --- |
| PROS | CONS |
| tiny and portable | Binding storage |
| robust and lasting | Expensive |
| environmentally friendly | |
| rear camera mount | |
| enough room and weight capacity | |
Highlighted Features:
NMMA Certified
16 High Capacity Self-bailing Drain Valves
Large Removable Skeg for Flatwater Touring
Separate Drop Stitch floor for rigidity
One-Way Air Valves
Sea Eagle motor mount receivers for optional motor mount
Printed Instructions
The Sea Eagle 380x Explorer Inflatable Kayak features a sturdy floor and skeg for excellent paddling performance. Alternately, you may take out the skeg, open the drain valves, and use this very durable inflatable to navigate Class IV rapids with ease. With a weight capacity of up to 750 pounds, this sturdy inflatable kayak is strong and quick to set up. It's a fantastic option for an inexpensive, adaptable, and trustworthy inflatable. Since 1968, the Long Island, New York-based family company Sea Eagle has been producing inflatable boats. The family's shared love of adventure kayaking and discovering local waterways inspires them to produce high-calibre boats at competitive prices. They are proud of the attention, excellence, and service that goes into every product.
A larger, high-capacity tandem variant of the dependable Sea Eagle Explorer range is the Sea Eagle 380x inflatable kayak. The Sea Eagle Explorer is built for wet or dry environments, offering great toughness for stormy water as well as stability and comfort on flat water. With four high-capacity self-bailing drain valves, front and rear spray skirts, and a drop stitch bottom for stiffness and control, this exceptionally durable inflatable can handle up to Class IV rapids. On flat water, take advantage of the cosy seats, the sizable detachable swept-back skeg, and even an optional motor. The pro package includes everything you need to enjoy years of enjoyment, including two seats, two paddles, a repair kit, an air pump, and a travel bag.
| | |
| --- | --- |
| PROS | CONS |
| high weight capacity of 750 pounds | Although it can support three individuals, three adults could find the limited legroom uncomfortable. |
| the structure that is incredibly tough and resistant to wear and punctures | Self-bailing drains are challenging to access from inside an inflated boat, making it challenging to make adjustments to them mid-stream. |
| moveable rigid floor | |
| Suitable for Class IV rapids | |
| One-way valves with a recess | |
Highlighted Features:
aRigid carry handles
Configurable deck bungee
Pungo dashboard
Slidelock xl foot brace system
thigh paddling
The Wilderness Systems Pungo 125 is a superb sit-inside kayak that can accommodate more powerful paddlers. With a maximum weight capacity of 425 lbs and a length of a little over 12 feet, this kayak can easily fit big or tall paddlers. It boasts a Phase 3 Air Pro kayak seat, which is fully adjustable and ergonomic, to guarantee excellent lower back support when out on the lake for extended periods of time.
Additionally, the foot pegs are adjustable, so if you are taller than usual, you may move them farther apart to maintain your comfort in the cockpit. Like the Old Town Loon, it contains a storage dry box with a battery to keep your electronics charged and prepared to go, a battery and a battery charger.
Highlighted Features:
Versatile Design Allows for Solo or Tandem Paddling
10-Foot Compact Length for Easy Transport and Storage
3 Fishing Rod Holders and Rear Storage Hatch
Stable Hull Design with a Weight Capacity of 500 lb.
For any fisherman, the Lifetime Tamarack Angler Kayak is a fantastic option. It is a robust and adaptable kayak with several features that are perfect for kayakers who like to fish.
Due to its wide flat bottom hull, which makes it highly stable, this kayak is exceptionally well balanced and even beginners find it to be simple to manage. Long fishing adventures are made possible by the adjustable, comfy seat. The UV-Protected high-density Polyethylene used in the Tamarack puts durability first. It has a maximum weight capacity of 275 pounds, but because of the several footrest configurations, it can accommodate people of nearly any height. A cushioned seat with adjustments provides more comfort.
Two flush-mounted rod holders and one top-mount holder will help you easily access your fishing poles.Additionally, a paddle keeper with shock cables is included. Because the Tamarack incorporates Chine Rails for stability and a flat bottom for additional stability, you may move about your kayak with confidence. The front and rear T-handles make moving the Tamarack about a breeze. It resists damage because of its Polyethylene structure. Your kayak does, however, come with a five-year Limited Warranty in case something goes wrong.
| | |
| --- | --- |
| PROS | CONS |
| quite strong | hefty and challenging to load or carry |
| Simple to use | slow through the water |
| Ultra-stable | The seats are simply backrests, so it's not exactly a comfortable design. |
| paddle and rod holders built right in | |
| Numerous footrests and a high seating position keep you comfy and dry. | |
5.Sea Eagle 370 Pro Inflatable Kayak
Highlighted Features:
Open and close drain valve
Five deluxe one-way valves
Sun & saltwater resistant hull material
Lashed down inflatable spray skirts
I-beam construction floor
2 skegs on the bottom for better tracking & speed
Bow & Stern Grab Line
With the Sea Eagle SE370 inflatable kayak, you can enjoy the portability and convenience of an inflatable without losing space, comfort, or durability. It has a big size and a strong weight capacity. There are no water activities too challenging for this enjoyable, tough inflatable kayak because it can hold up to 650 pounds, has a sturdy vinyl shell that won't be damaged by the paws of your dog, and is rated for seawater and up to Class III rapids.
The Sea Eagle SE370 is a tough, sturdy inflatable kayak that can support up to 650 pounds and 3 adults. The robust vinyl construction can handle hits and abrasions, as well as turbulent waters, oyster beds, and dog paws, and it can last for years. However, it still deflates quickly and collapses into a bag that can be put in the trunk, carried on your shoulder, or kept in a closet. You won't ever have to put a stop to your adventurous spirit because it has all the convenience of an inflatable kayak and all the toughness of a hard-hulled kayak. The interior of the SE370 is 10 feet 8 inches, which is too small for three adults to be comfortable, and it only has two seats, even though it can support three adults within its weight rating. It's the ideal size for extended solo expeditions with all your fishing or camping gear, or two adults and a child or pet.
Highlighted Features:
AirPro MAX Seating System w/ Extended Travel
Enclosed Bow Storage w/ Integrated Paddle Park
FlexPod OS Removable Console
Utility Tray w/ Removable Cover
Open Deck Walk Space w/ Traction Pads
5.5″ Midship Hatch
Rectangular Stern Hatch Provides Hull Access & Versatility w/ Bungee & SlideTrax
The Wilderness Systems A.T.A.K 140 is a top-of-the-line sit-on-top fishing kayak specifically designed to meet the needs of big guys. With a length of 14 feet, this premium angler kayak offers ample space and stability for more prominent individuals, ensuring a comfortable and enjoyable fishing experience.
Featuring a spacious open deck design, the A.T.A.K 140 provides plenty of room for big guys to move around and access their gear easily. The kayak is equipped with the AirPro MAX seating system, which offers exceptional support and adjustable comfort, accommodating anglers of all sizes.
This kayak comes with various features tailored to enhance the fishing experience. It includes a large tank well with bungee cords for gear storage, multiple rod holders, and a removable console that can be customized with electronics or additional tackle storage. The A.T.A.K 140 also boasts a stable hull design, allowing for confident maneuverability and excellent tracking in various water conditions
| | |
| --- | --- |
| PROS | CONS |
| highly adaptable | Limited availability |
| stable ground surface for standing | |
| ample storage | |
| capable of optional motor drive | |
| 4 colour options to personalise the appearance of your boat | |
So these were the few kayaks that we shortlisted for this article. We hope this article will help out all those big and tall guys who were finding it difficult to buy a suitable kayak for themselves and also look out for additional reviews in future.
Guide for buying kayaks for big guys
As we have already reviewed some of the best kayaks which can be suitable for big guys in the earlier segment of the article we will now discuss some things to look out for in a kayak before you buy it because buying a kayak for a big and tall guy is not an easy task, there are a lot of things to consider while choosing a kayak for a big and tall guy.
We are here with all the possible things you should consider while buying a kayak for a big guy.
a. Kayak type
Your choice of kayak will rely on a number of variables. Budget, intended usage, ability, and size are a few examples.
Kayaks that you sit inside are typically lighter and faster. They provide better weather protection because of the snug hull and smaller cockpit aperture. The larger, more open cockpit of a sit-on-top vehicle enables a taller, wider person to spread their limbs. They are much simpler to enter and escape, especially if you have weak knees or limited mobility. For the larger man, sit-on-top kayaks are a better option because they are more stable, simple to get in and out of and provide more space to move around.
b. Comfort
This implies that you must sit in or on the boat in the store to determine whether you fit inside and whether it is comfortable. Keep in mind that you'll probably spend a lot of time in the boat at once. Does the back have enough support? Do you fit snugly yet not too firmly? Can it be modified to meet your needs? Get a knowledgeable salesperson to help you and respond to your inquiries. You will have to swallow your pride in order to receive truthful responses at this particular time.
c. Weight
Weight of a kayak is an important element to check before buying a kayak, so whenever you go to buy a kayak it is important for you to take note of the kayak's weight. Keep in mind that you may need to travel a fair distance to get your boat from wherever you store it to your vehicle, then from there to the sea.
d. Width
Kayak width is a crucial component of stability, thus larger paddlers should give it special attention. The stability increases with increasing width. With increased width comes increased drag, which is the trade-off. As a result, pushing the Kayak forward will require more effort.
e. Height
The height of the deck or the depth of the seat or footbed, which is especially important with sit-on kayaks, are other factors to take into account when choosing kayaks for big or tall men. A taller paddler will naturally have a higher centre of gravity, which when they move side to side in the water could cause them to feel uneasy. If so, choosing a kayak with a lower seating position or a deeper deck will aid in resolving the problem.
Conclusion:
We hope that we were able to solve your problems faced by you relating to kayaks for big guys. After researching through the web we jotted down the most relevant information on our site which will guide you in buying your perfect kayak. Keep coming back to our site because we post frequently if you want to see more kayak-related information in the future.
FAQ
1. What is the best kayak for big guys?
The kayaks that can withstand the weight of the user and their gear are the best for big people. To retain strength and stability, they ought to be both wide and long. There should be enough space to move around quickly and comfortable seats. For big guys, sit-on-top designs are suggested.
2. How big of a person can fit in a kayak?
The fact that you are overweight should not demotivate you. Contrary to popular belief, anyone of any size or shape can enjoy kayaking, and there are kayaks specifically made to accommodate larger paddlers. However, you must also take into account the amount of legroom, weight capacity, and accessibility of the kayak. Wide-beam sit-on-top kayaks with a roomy open cockpit are a good option because they are much more "forgiving" in that regard.
3. Why do kayaks have weight limits?
The weight limit of a kayak is the "number" that a manufacturer assigns to a boat to aid paddlers in determining what kind of kayak suits them. Additionally, knowing how much gear and equipment they can bring on a boat aids paddlers. On every new kayak, the assigned capacity is marked.
4. Should a heavy person sit on a back of a kayak?
The canoe's rear is where the steering happens. Because of this, the canoe's stern should include the more skilled paddler or more coordinated person. It is also preferable to put the heavier paddler in the back of the canoe when there are only two paddlers. It can be challenging to strike a balance between those who are the heaviest and those who have the greatest canoeing expertise. Ideally, the heavier person will paddle from the stern while also being the more experienced paddler.